Autumn is one of the best times of the year to visit Japan when hot summer days give way to cool autumn nights, and the trees respond to the change of season by putting out a riot of color. This is the season for momiji-gari (hunting for red leaves)
In the Fall of 2022, I spent a month in Kyoto. Each day I went to a temple, shrine, or private garden to see the art of Japanese garden design. Drawing from Shinto and Buddhist philosophies, Japanese gardens can inspire peaceful contemplation within a tranquil retreat that combines natural elements of trees, water, stone, and grass using simple lines. While some gardens are designed for meditation, others are illusions of paradise.
At each site, I was faced with a bone-crushing load of tourists. Of course, it's silly to complain about the tourists because I am one of them, but the overcrowding is unbearable. It is hard to experience the calmness of a still garden while swimming in a crowd of people.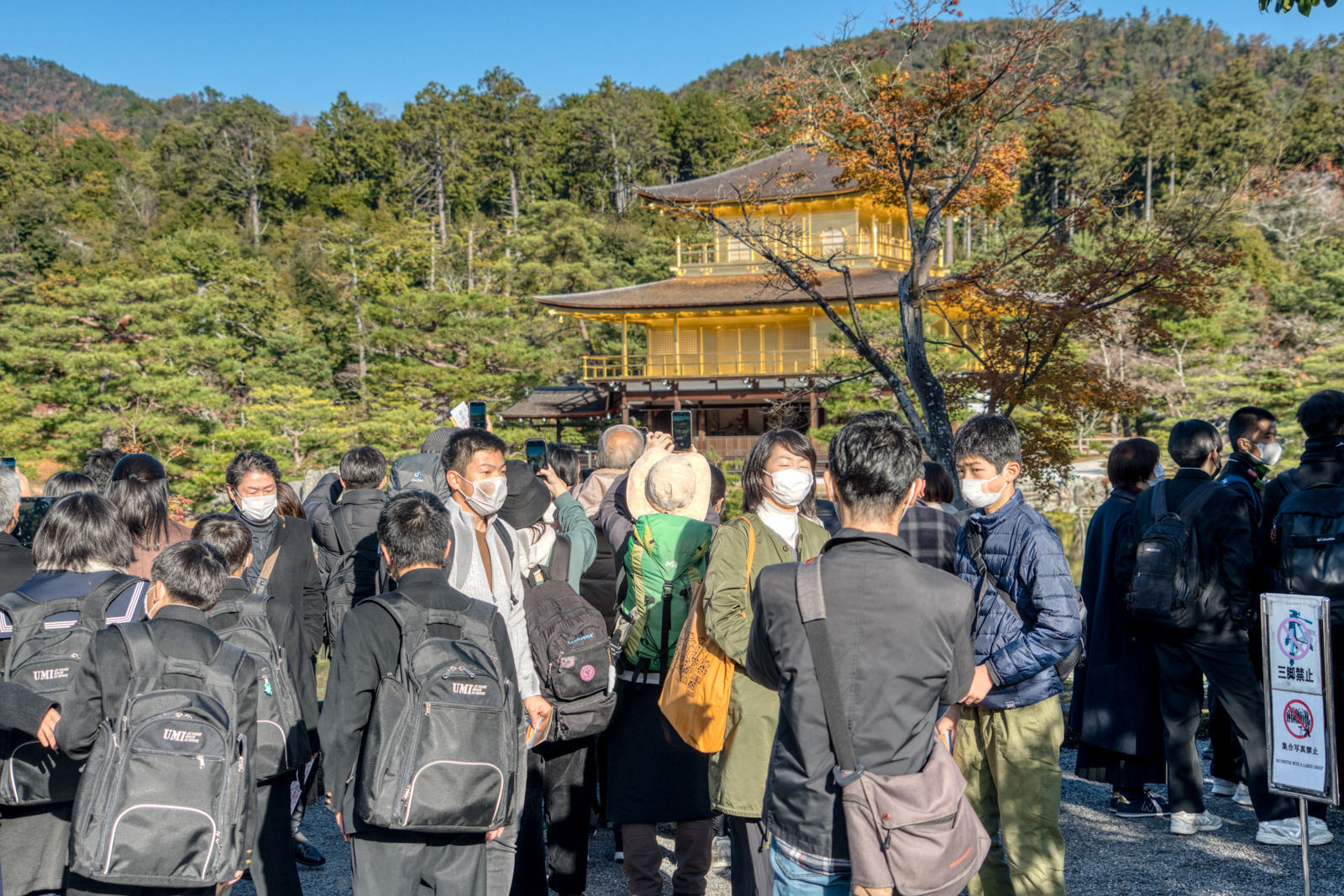 At the height of the fall-color season, I went to Saihō-ji Temple and had a different experience.
Saihō-ji is the most imitated garden in all of Japan. It is a UNESCO World Heritage Site, a National Treasure, a Place of Cultural Importance, and has a bunch of other historic this and that titles. If you can only see one garden in all of Japan, this is it.
Getting in is a chore. The sign at the entrance explains why the purpose of this cumbersome process.
You must reserve your spot by postal mail. Send a postcard at least a month ahead of your visit date. Be sure to include a prepaid postcard with the return address in Japan for the invitation that may or may not arrive, and hope for the best. I applied three times! There is an equally arduous process for foreign visitors (Saiho-ji reservation page) 

You'd be forgiven if you assume Saiho-ji to be a less-than-welcoming place. At the hour listed on my card, the guard opened the gates and asked a group of about 30  guests to register. We each paid a fee, about 5 times the cost at other gardens, and entered. 
Inside the garden gate, I met my uniformed hostess, that spoke fluent English. As she escorted me to the main hall, she explained that before going to the garden, I must ease my mind by sitting in silence, copying the Buddhist Heart Sutra for about an hour. The Heart Sutra (the summation of Buddha's wisdom) perfectly explains the teaching of non-attachment, which is essentially the doctrine of emptiness.
At the entrance to the hall, my hostess handed me over to another lady that took my shoes, offered some water, asked if I'd prefer to sit on the floor or at a table, and helped me buy a calligraphy pen.
At most temples, they don't let more than 1,000 daily visitors go near the temple hall or the ancient artwork stored inside. Yet at Saihō-ji, we sat next to a century-old statue on tatami mats in a hall covered with painted panels. This was an unexpected treat. In fact, I spent so much time looking around that I only finished half of my sutra, and the monk told me to go home and finish the work.
Saihō-ji was originally built as a Pure Land paradise garden (see Byoudoin Garden at Uji) Around 1300 AD; it was converted to a Zen garden. Pure Land and Zen gardens are polar opposites. In Pure Land garden design, the garden is an illusion representing paradise to our senses. Zen gardens, with their constantly changing views, remind us that the source of our suffering is our illusions.
This garden was built as a nod to the Zen notion of extreme subjectivity; how we see the world can change radically based on our state of mind. The same things will look different if we feel angry or peaceful, lonely or in love.  Zen garden design emphasizes this idea by revealing a different view every few steps or by just turning our heads.
Besides the ever-changing view of the garden, two design elements are noteworthy. The Pure Land version of Saihō-ji fell into disrepair partially because, in that area, moss grows everywhere, and the maintenance of the garden devoid of moss was a never-ending battle. The Zen garden designer decided to give in to the moss, and today 120 different mosses grow at Saihō-ji, carpeting the garden floor. That's why the nickname Kokedera for the Saiho-jo garden means the moss temple. 
In addition to this change, the gardens before Saihō-ji, had several sitting places for either rest, meditation, or conversation. Saihō-ji is a strolling garden. The mind relaxes into meditation during an uninterrupted walk. I walked the garden clockwise and counterclockwise and felt I had been to two gardens. I also ran into only a few of the 30 people in my group.
The visit to Saiho-ji takes about 5 to 6 hours. If you are in Kyoto for a short visit, it requires careful planning to get into Saiho-ji (even though I encourage you to do it) If you go to Saiho-ji at the start of your time in Kyoto, forget going to other gardens unless you think Las Vegas is a place of worship and meditation.